Beautiful Day for Fishing in Miami, Florida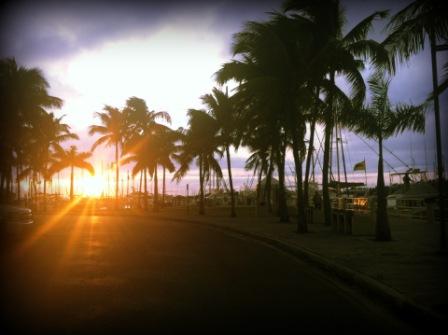 Miami Charter Boat and Fishing Tackle
Dinner Key Marina in Coconut Grove is home to Miami fishing charter boat, Hot Shot Charters. Miami charter fishing on the HOT SHOT is a great time-saver because we are centrally located. We are close to University of Miami, Coral Gables, Downtown, Key Biscayne, Miami International Airport, Kendall, Doral, and Miami Beach. Free parking helps everyone and gets you on the water even quicker.
Our custom-built Ricky Scarborough is immaculate. Air Conditioning and her wide beam means you ride in comfort.
1-6 person charters available 7 days a week. Whole day, half day, evening and multi-day packages are available. It is simple: the time is yours, alone or with friends.
Tackle is included. Rods and reels in all desirable combos. We have a vast assortment of tackle, lures, flies, and gear to keep the fishing active. Ice and coolers are available.
Licenses
USCG Licensed Captain | TWIC certification | City of Miami Occupational License | Miami-Dade County Occupational License | FWC Fishing Licenses and corresponding stamps (if possessing fish)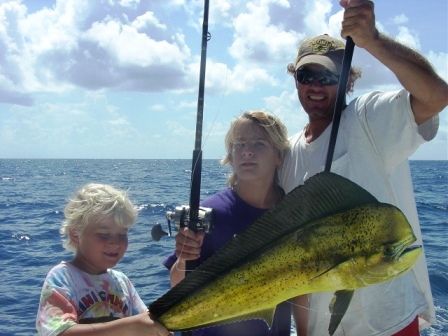 Deposit and Refund Policy
A deposit of $150. per day is required at the time of booking. Deposit can be refunded with 72-hours advanced cancellation notice. 
Sport Fishing Charters in Miami - Tips
Hire a Licensed Captain!
Many "skippers" want to claim their credentials yet do not possess the proper US Coast Guard license required by law when in the business of chartering their boat for hire.
While they may be cheaper charters, these "Bare Boat" Charters leave you with 100% of the liability 100% of the time. You should not have to sign waivers when your Captain has the proper licenses and insurance. Before boarding, just ask "may I see your current USCG Captain's license and insurance."  

What to Expect, What to Bring
Bring water, beverages and food.

Weather is fickle in Florida and all charters are weather-dependent. Thunderstorms are a regular feature in South Florida so it is good to be prepared. Call Captain Sig to get up-to-the minute forecast details. The sun out here is brutal so the value of sunscreen cannot be under-estimated. Long, light protective clothing is best. Polarized sunglasses are a "must" for successful site fishing and highly recommended.
And of course: a hat, suntan lotion, and lots of water. Once you have all these things get ready for the time of your life. Don't forget the camera!
Owner-Operator, Captain Sig Ozols
Captain Sig Ozols makes his 27-year int
ernational fishing career work for him and helps anglers Miami fishing at its be

st. Captain Sig fishes all year-round and knows the prime grounds that produce results.
"Productive charter fishing at a great price is my pursuit of a lifetime.

I discovered the thrill of deep sea fishing when I was 8 years old. I worked every part of the industry to hone my skill and land more billfish. Today it is all about thrill and light tackle. Clients are combinging gear and light tackle like never before. For me, its all about the chase and keeping it

safe

and simple. Live bait and tight lines = productive fishing. Let us do the rest."
                                                                                 --- Capt. Sig
Where to find us: Dinner Key Marina | 3400 Pan American Drive; Pier 9, Slip 7; Coconut Grove, FL 33133 | 305-608-3913 | captsig@hscharters.com |
Home
About
Pics and Links
Contact Us
Charter Information